Decroux | Brand + PACKAGING
Decroux is a super premium wine experiment, founded and helmed by winemaker Jennifer Hoage. The winery focuses on Central Coast Pinot Noir—each of the wines is a single vineyard expression of its place.
The inspiration behind the name begins with Étienne Decroux, the "father of modern mime." Besides being a member of the annals of art history, Decroux was once Jennifer's teacher in Paris, France. His work is known for its sculptural qualities and expression through movement of the entire body. 
I was tasked with tying Decroux's legacy, the winemaker's memories of Paris, and the expression of the wine itself together in a minimalist yet evocative brand. 
The chosen design direction began with a map of Paris:
Paris is an unusual, Voronoi diagram-esque grid, and like any city is flush with motion. I thought, why not take that motion and apply it to the wine label, creating a conceptual reference to the name. I overlaid main thoroughfares from multiple Parisian maps relevant during Étienne Decroux's lifetime and created an abstract map using cut-outs.

Here's the initial digital mockup of what eventually became the final Decroux wine label design: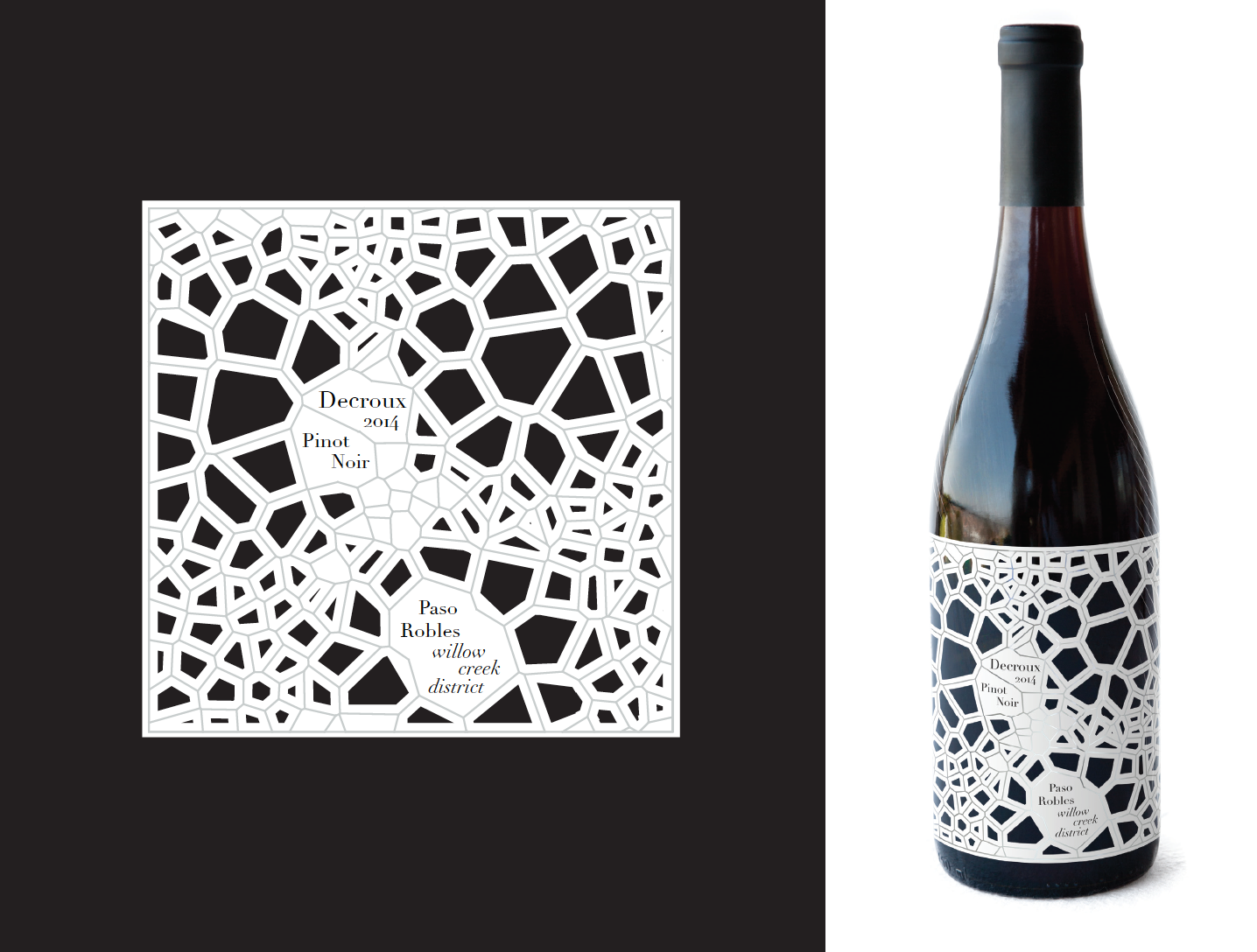 It's unusual in that it is very similar to the final design printed. Most packaging designs undergo a more profound evolution, but every so often, we just hit on something that's right. This was one of those times. 

Not that this was the only direction presented... far from it! Here are a selection of some of the other design contenders, each of them relating to the concept of 'Decroux' a little differently: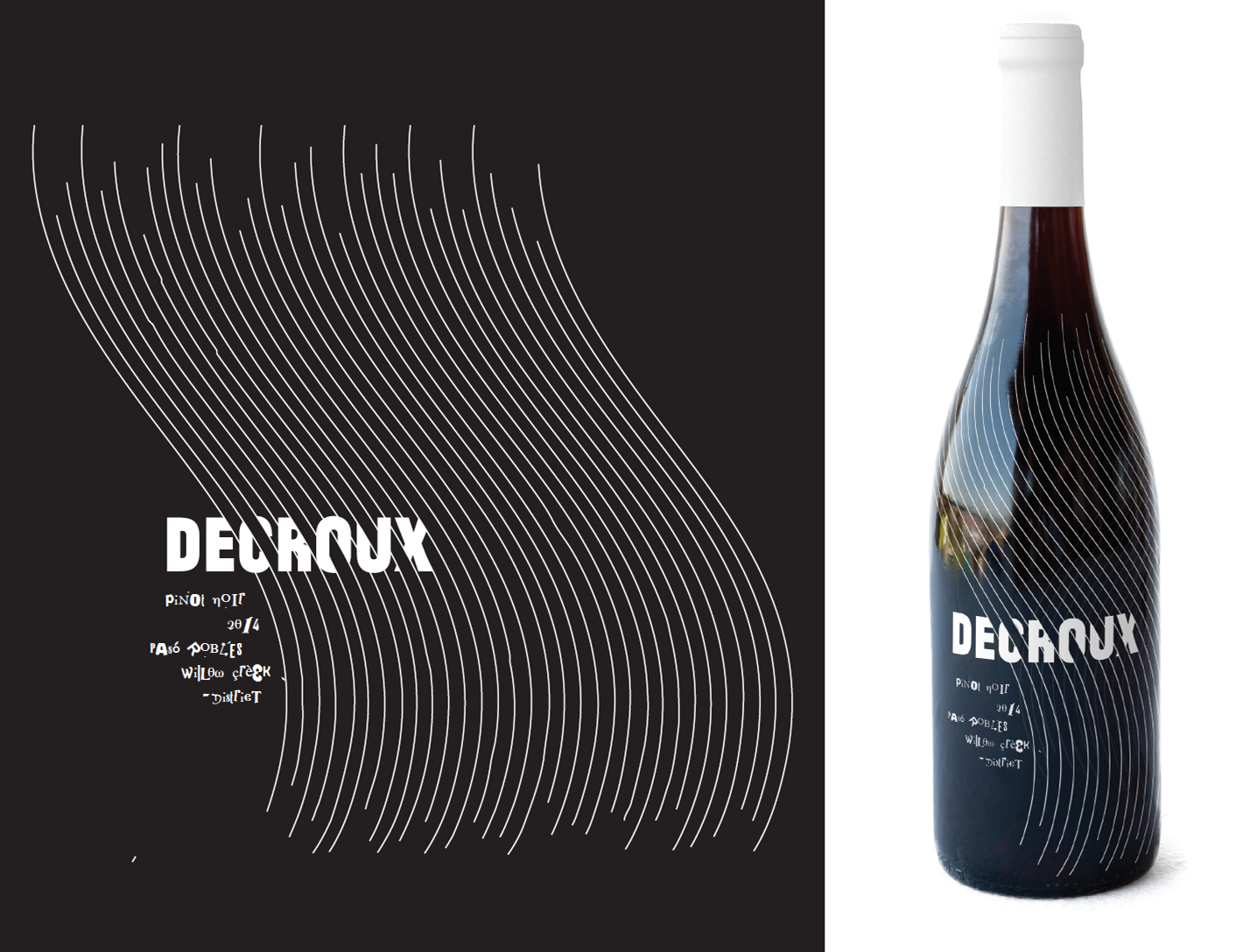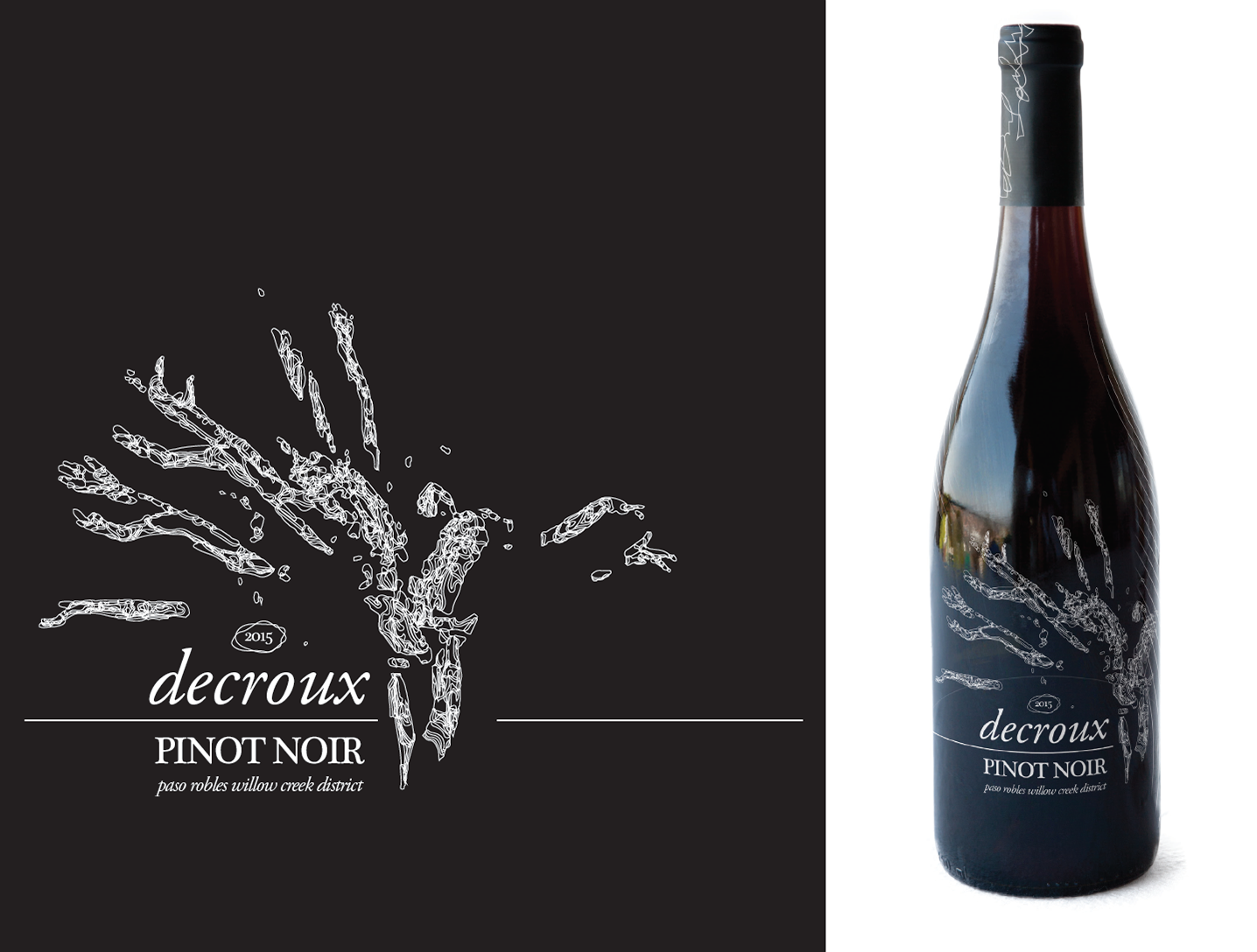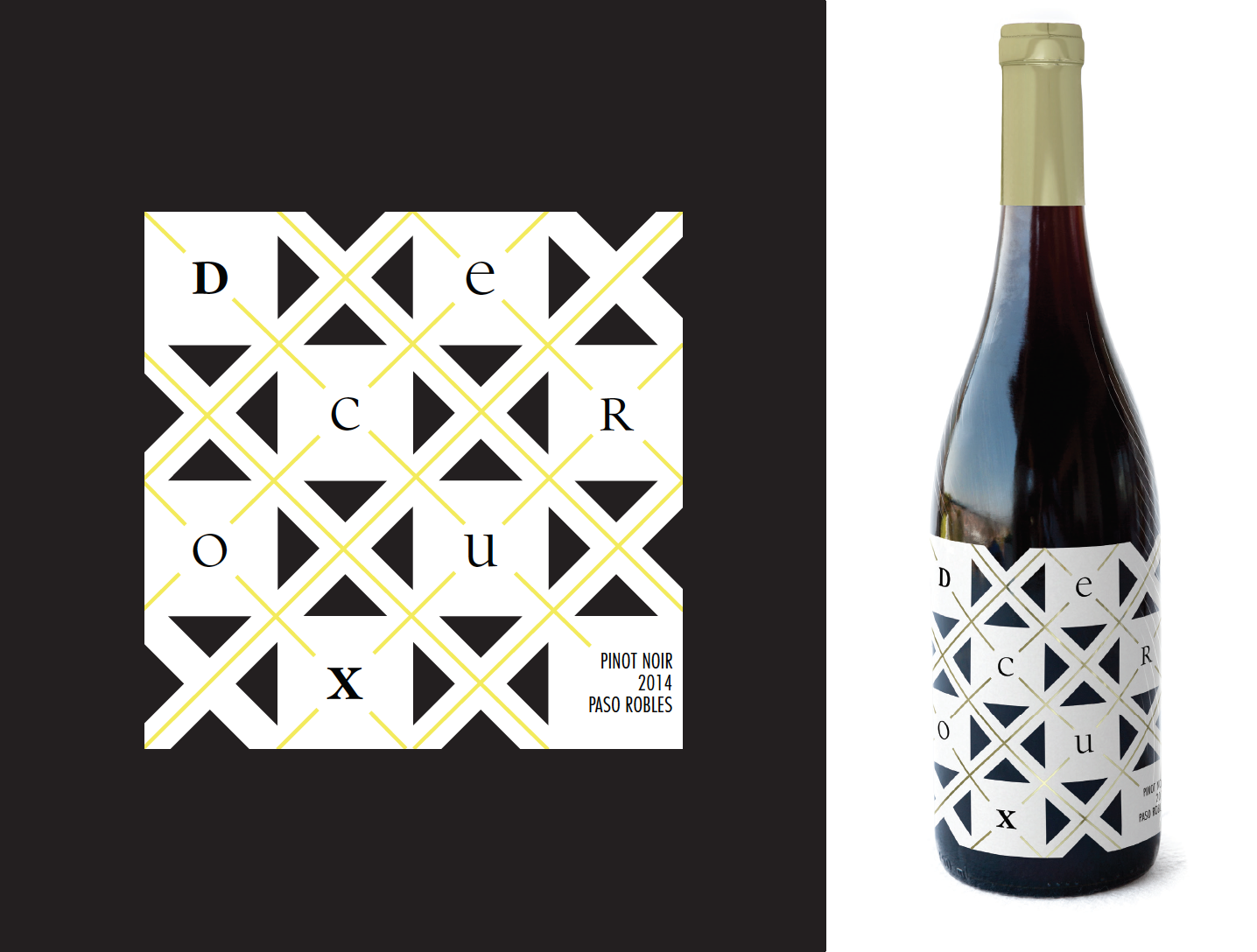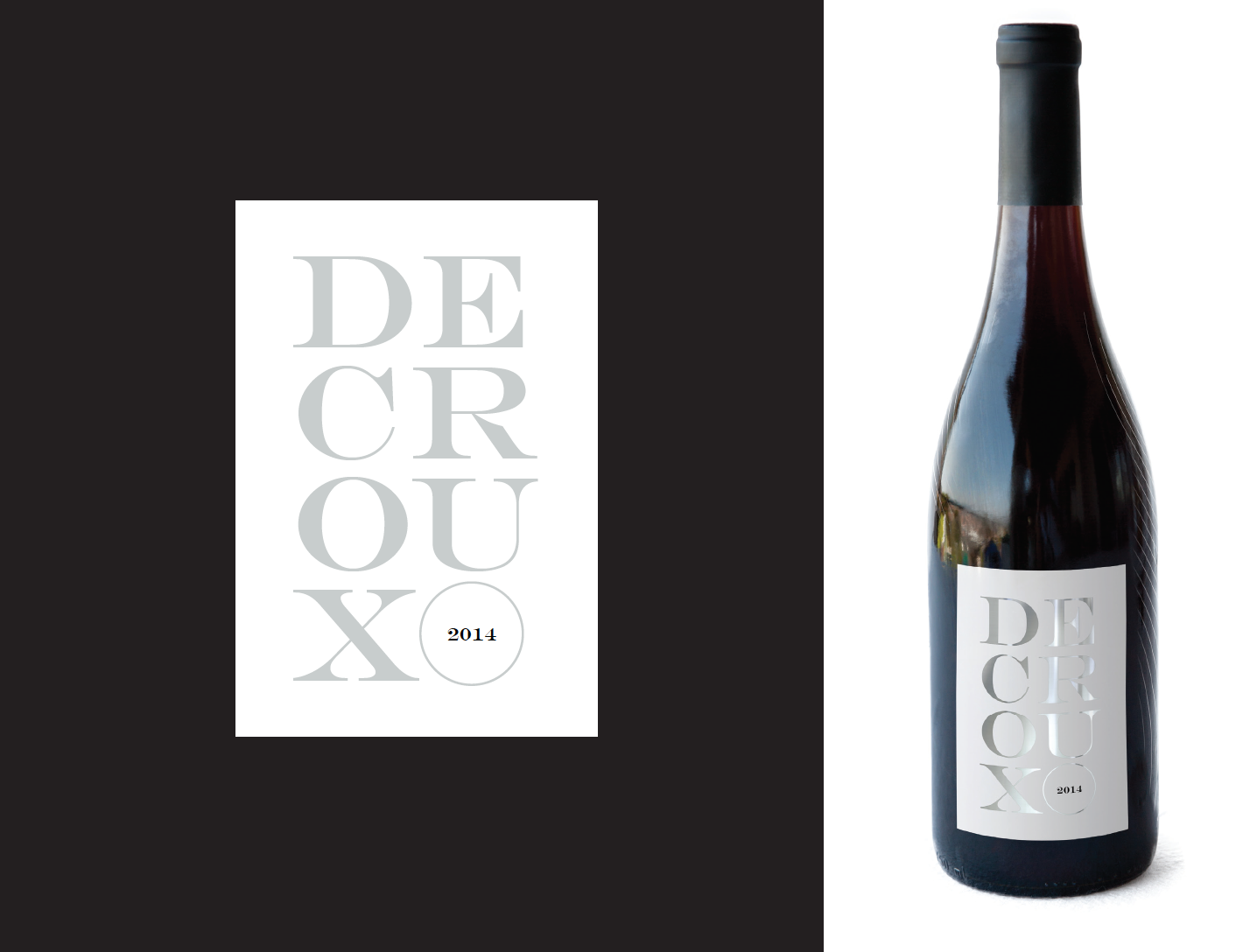 Of course, wines are (typically) packaged in bottles, which have a 360° view, so I also had to consider the back. In wine packaging it is imperative that designers consider the legal ramifications of our decisions—both federal and state laws provide us not only with a list of required information to include, but also specific size and placement requirements for that information. Because Decroux's front label is minimalist in regards to its text, the back label technically is considered the front so far as regulatory bodies are concerned. 
Decroux's back label began without its final poetry, and was more about branding. Introducing some subtle text in a handwritten style inspired the client to ask a friend for the use of some of her poems, and the rest is history. Here are some of the early versions of the back label: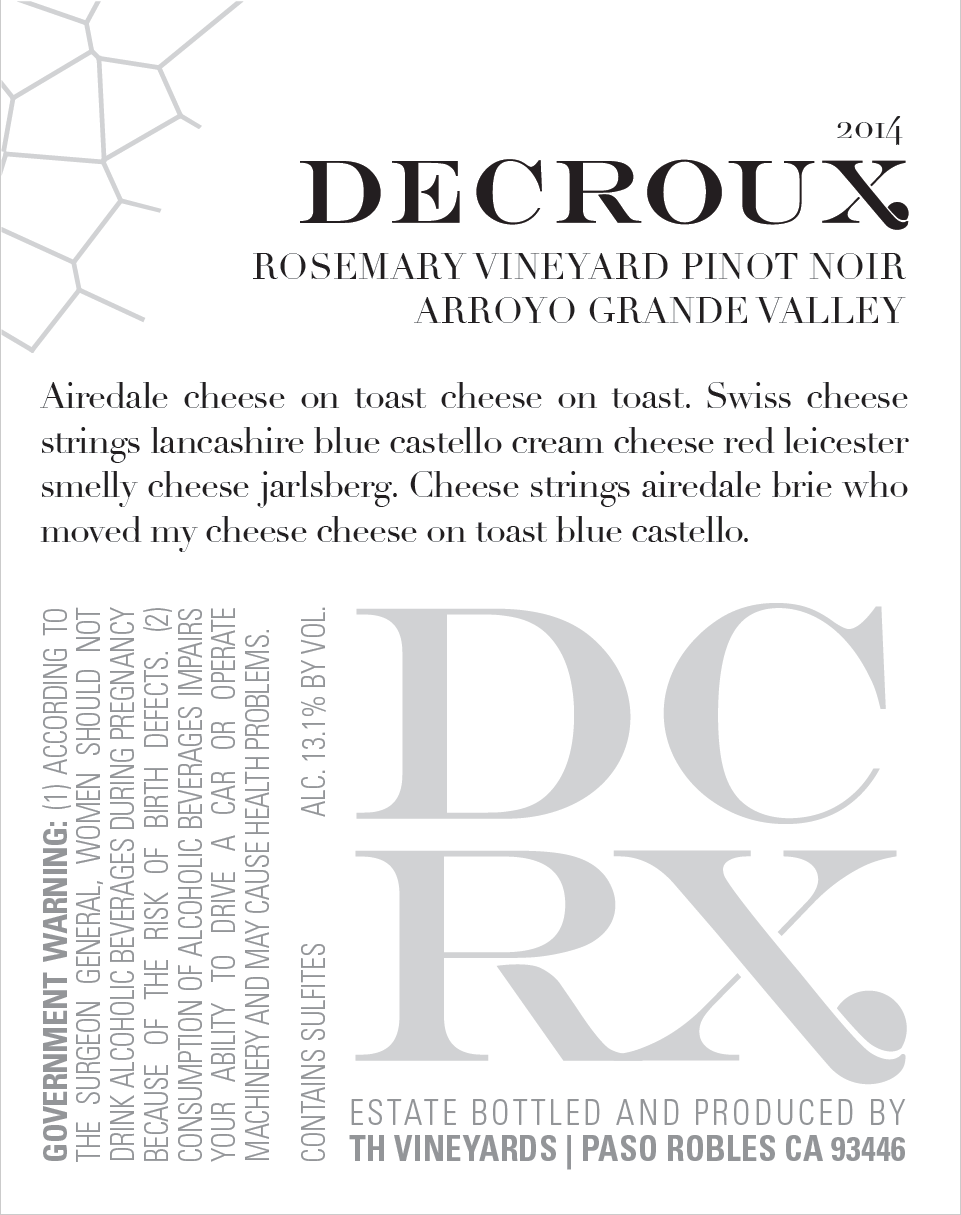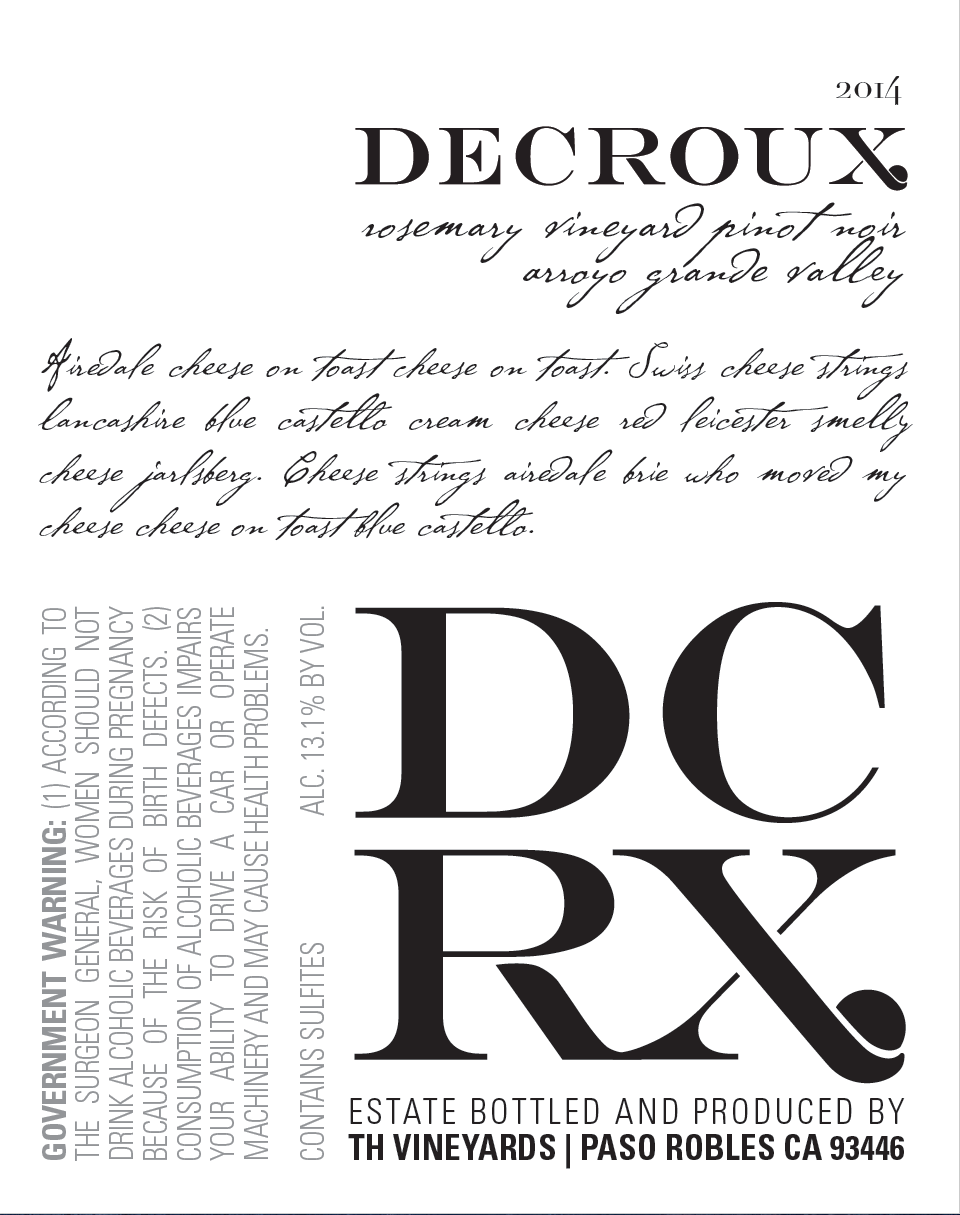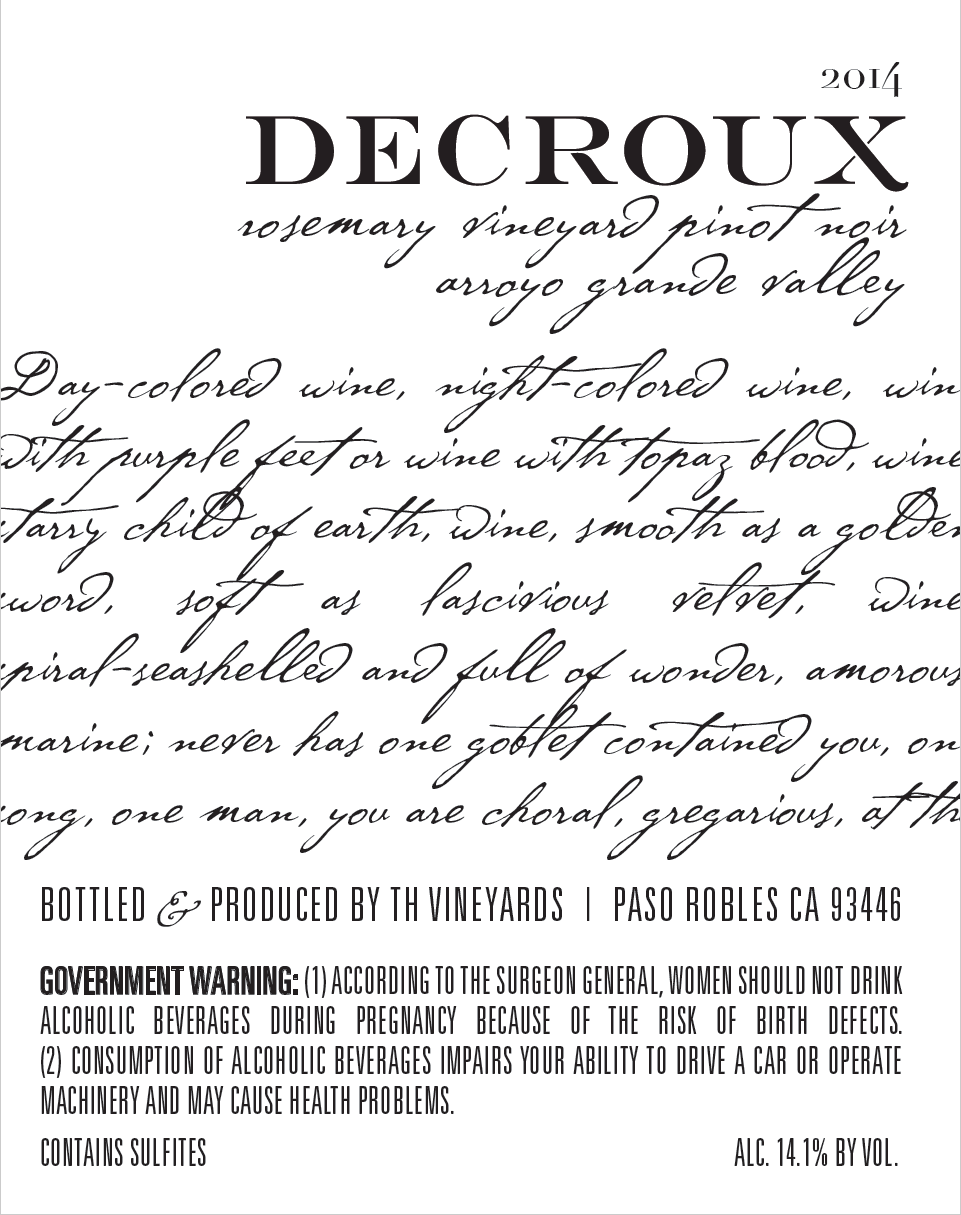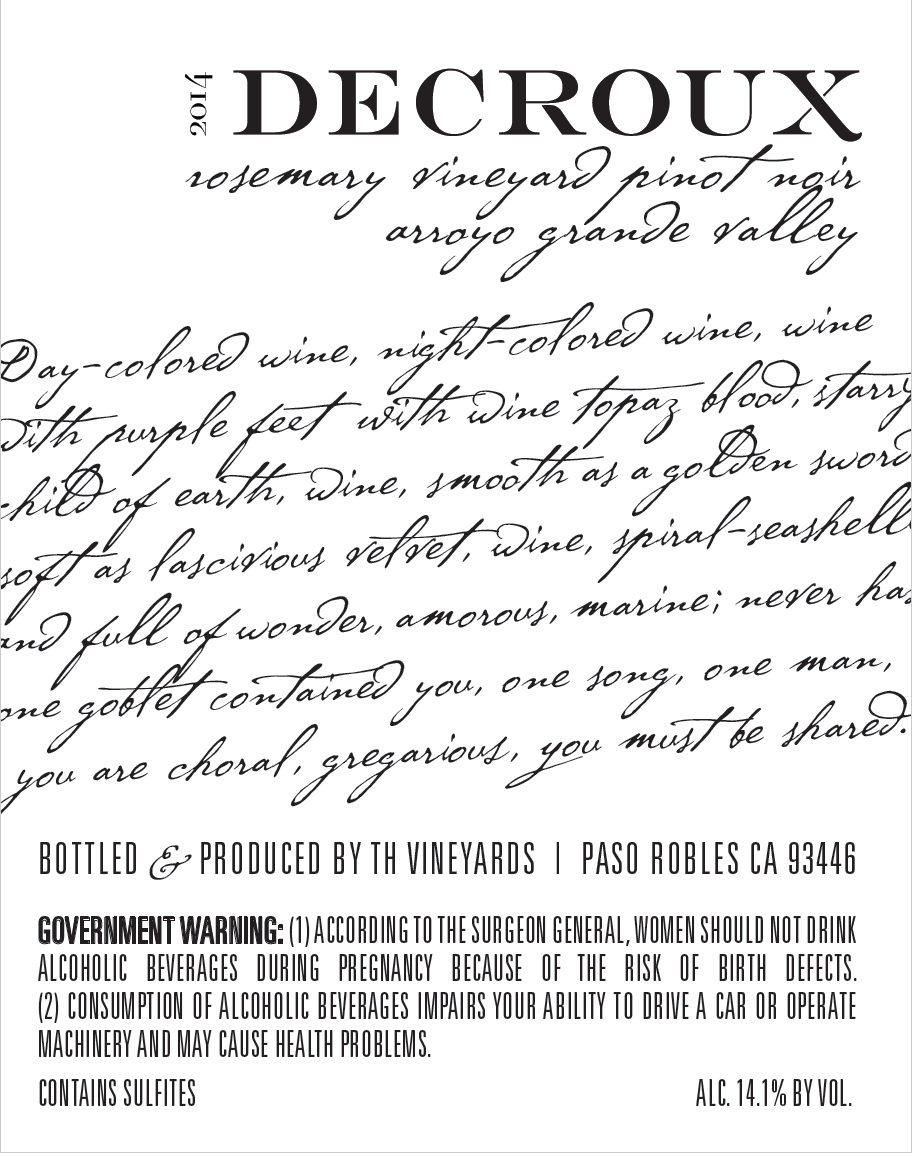 I will admit that I was and still am partial to option #3 above, with the text bleeding off the sides of the paper. It feels ephemeral and dynamic to me, so in touch with Étienne Decroux's concepts for movement. In the end, a solution without full bleed text was selected so that no characters from the generously-gifted poetry would be lost.
On the final version of the back, typical wine copy is left off and replaced by poetry written by Elizabeth Cohen, a longtime friend of the winemaker. Each bottle of Decroux—every vineyard expression—has a unique poem paired with it.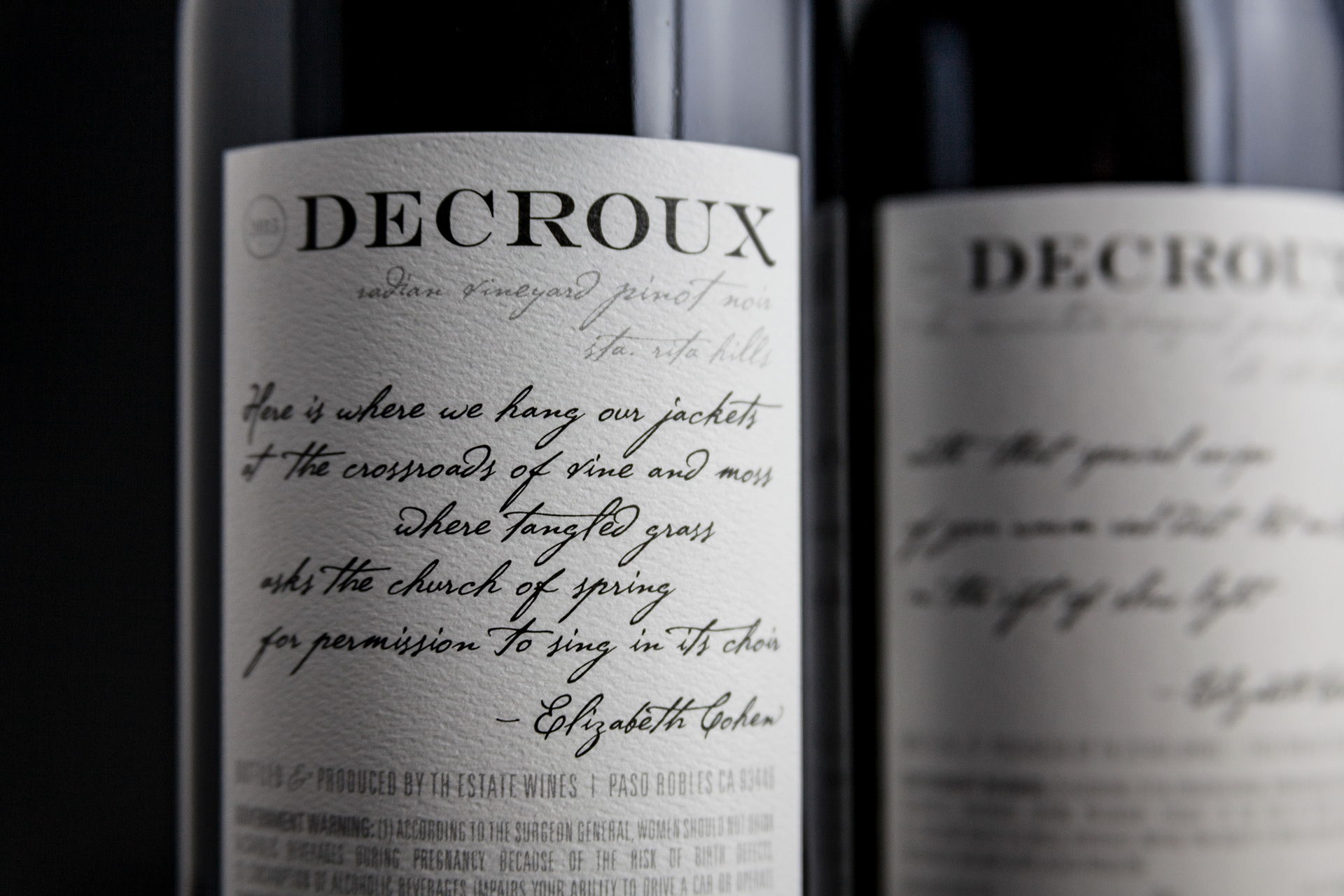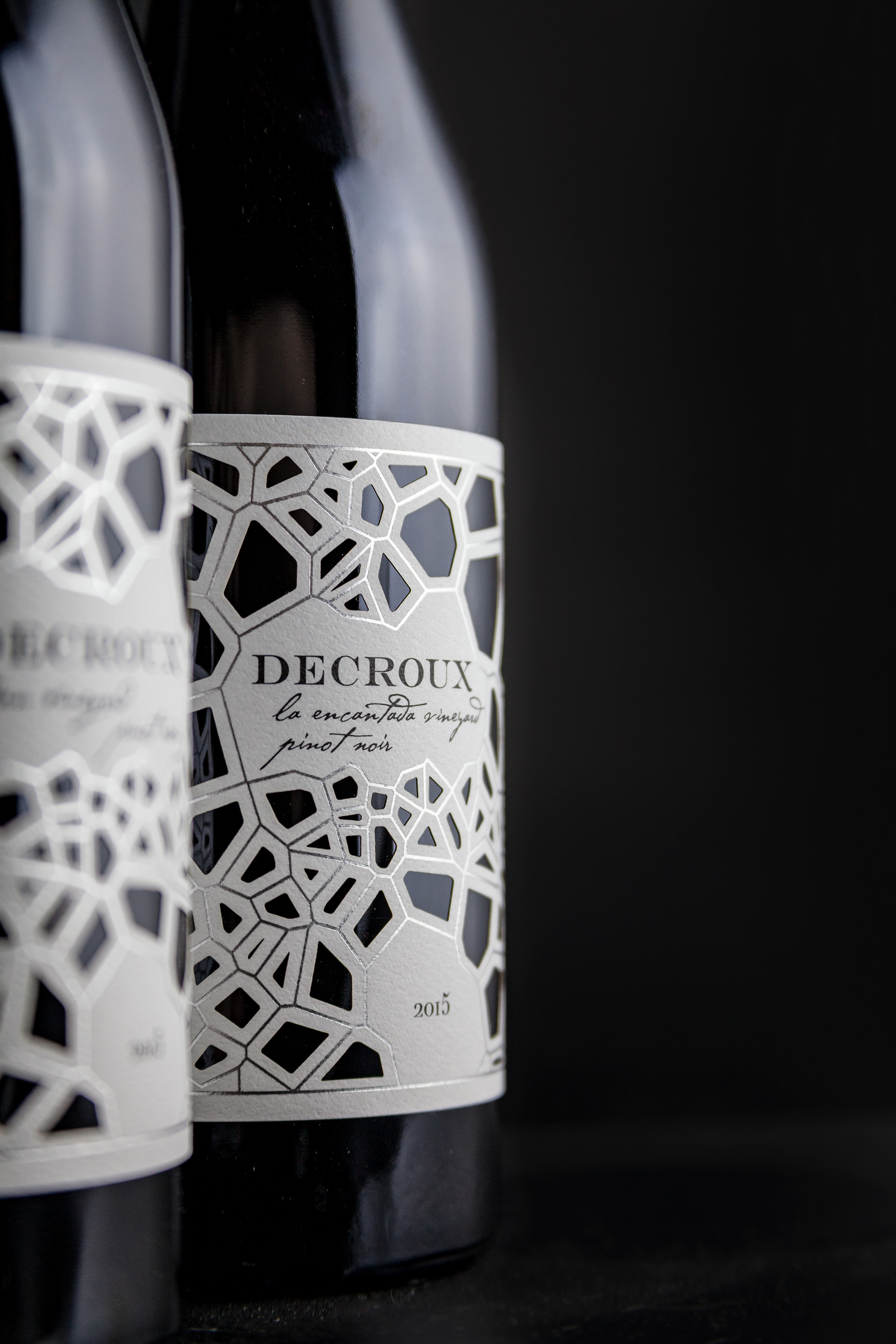 Wine packaging is not just a label.
A great wine package is comprehensive, including every element, from the bottle glass to the closure. Without a holistic design direction, wine packaging can easily look haphazard. While it's fine for a less premium bottling to work with whatever glass is most readily available, even that must be taken into consideration when the packaging is designed.
Which is a long way of saying that while all the label design was going on, I was also focused on selecting the perfect bottle glass with the client. After the overall design direction (the laser-cut Parisian map) was approved, I began sourcing bottles that would help the label sing, playing to its unique design.
I found what the project needed in Saver Glass's "Justine" bottle. Saver describes Justine as a bottle which
"positions itself as a rejuvenated version of the Bourgogne Tradition through a new, more straightforward shoulder line, with an increased slant."
Justine's geometric diagonal lines are reminiscent of the many diagonals on the label, and its overall Bourgogne shape is appropriate for the Pinot Noir wines that are Decroux's brand focus.
Usually, a winery has an existing logo that needs to be replicated and integrated with packaging but in the case of Decroux, the brand was designed all at once, from the ground up. If you look at some of the initial design proposals above, you can see that the final logo had its start very early on in the process.
The Decroux logo is another nod to Paris—the typeface style is Didone, named for historic French type designer Firmin Didot. Although the logotype clearly references classic Didot style, it is custom-drawn and unique (note the 'R' and 'X', in particular). Overall the logotype is loose, airy almost, balancing a sense of gravitas—history!—with grace. Its parts... the arm of an 'R' here, the swoop of an 'X' there... move like dancers looping past each other in tight choreography. 

There's also a smaller, square version of the logo which was developed specifically for instances when an icon would be more appropriate, or for times when a mark taking up a lot of horizontal space simply doesn't work. (Probably the most ready example of this is social media profiles.)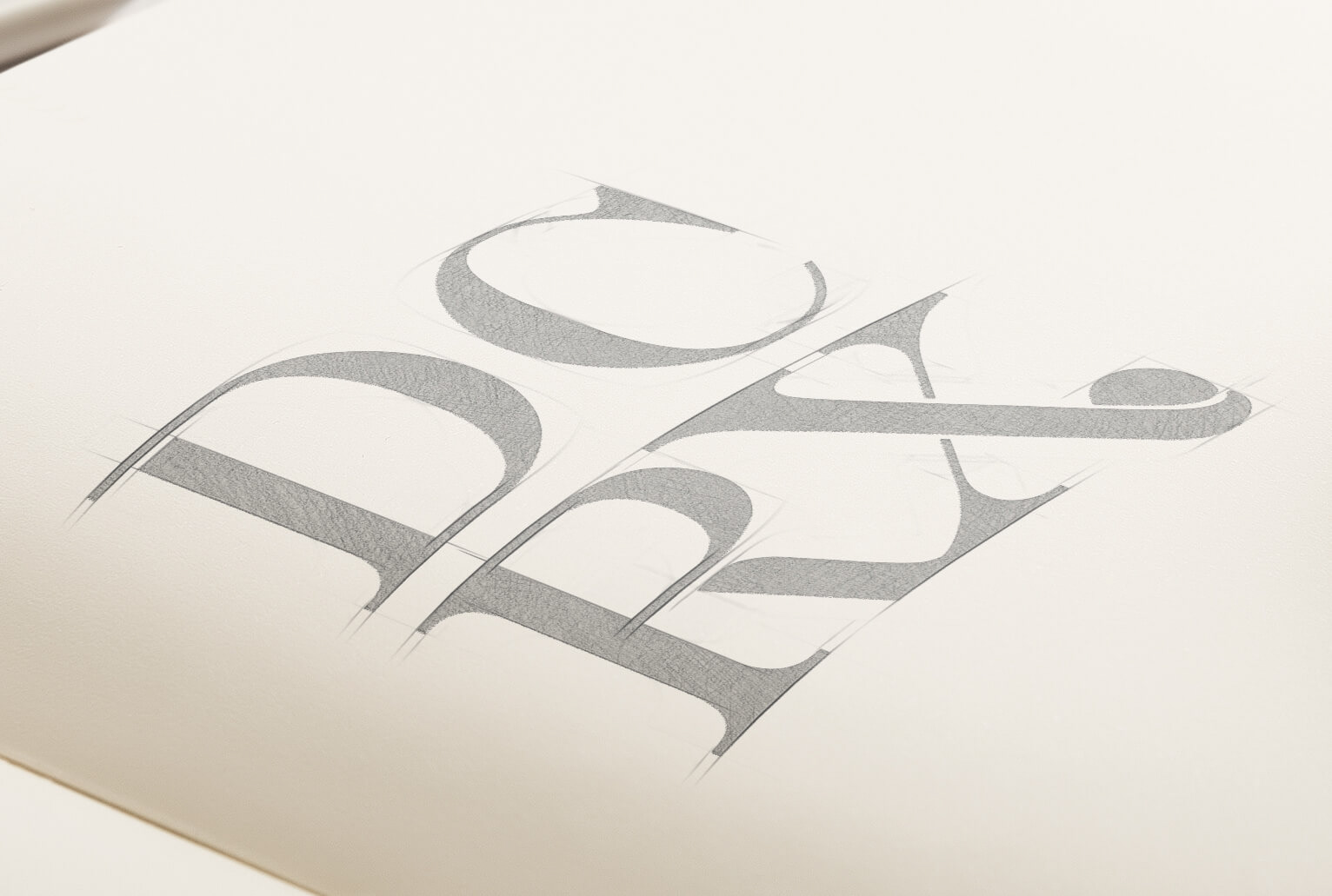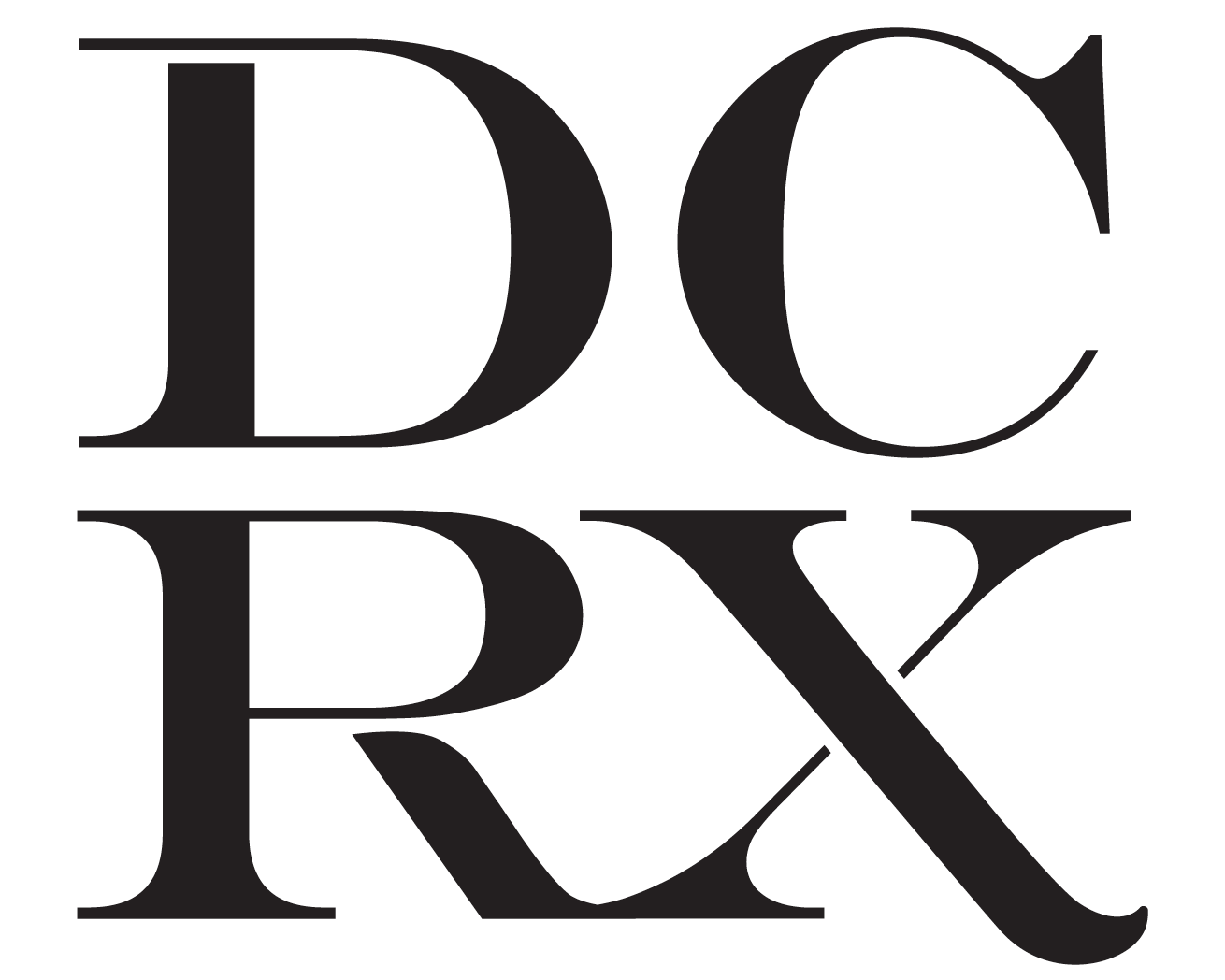 The capsules and corks tie-in to the dedication to unusual expression as well. Capsules showcase the French phrase "Sans mots" (without words), and the corks showcase just a touch more poetry: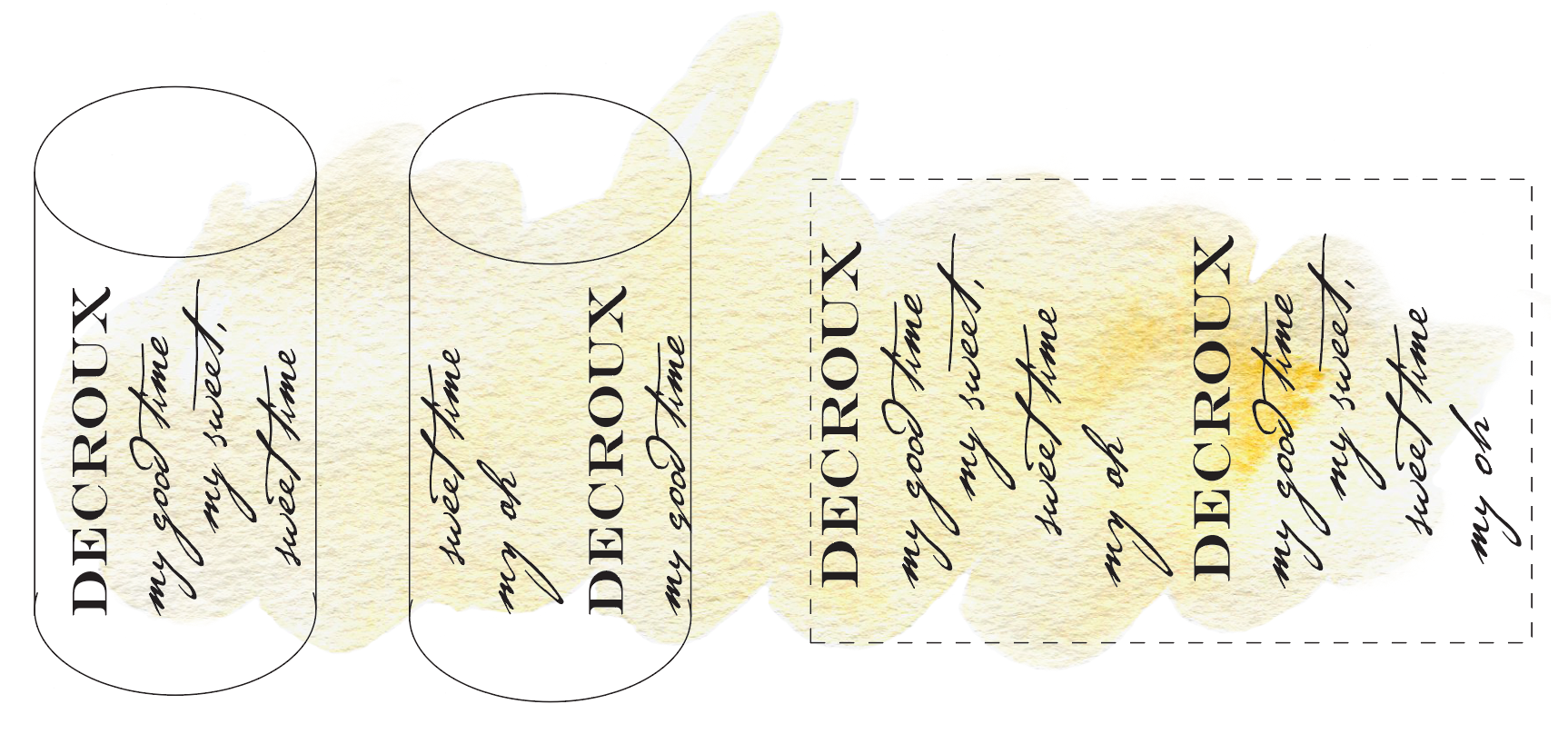 The final package is angular, yet graceful... complex, but minimal. Despite its inherent complicated-ness, the Decroux label printing is incredibly straightforward. The labels are laser-cut, which allows for small and precise cut outs far beyond what is available using traditional cutting dies. 
DESIGNER + ART DIRECTOR + PHOTOGRAPHER
AGENCY: NONE / INDEPENDENT PRACTICE